Brief introduction

With the OSC Trigger software, every OSC capable software can be expanded with a audio mode. For example, the lighting control software Onyx doesn't have a integrated "Sound to Light" functionality, but the option to specify the rhythm via OSC or a keyboard shortcut. Thus OSC Trigger can analyze the audio signal from the PC's line input and transmit the rhythm to Onyx.
OSC

OSC stands for "Open Sound Control" and is a control protocol developed for the use in audio applications. It is a ethernet based protocol which gets more and mor popular due to its easy implementation and flexibility. OSC also can be used without a real ethernet connection, between multiple applications on one computer. One could see OSC as a modern and flexible alternative to MIDI.
OSC Trigger
The OSC Trigger software analyzes the audio signal from a input of the PC and can recognize the bass parts with digital filter techniques. If a beat is above the set threshold, a trigger is initiated and the chosen OSC message is sent. So, the target application gets OSC messages in the beat of the music and can react to it. For instance, OSC Trigger can replace a manual "Tap" button.
Additionally, OSC Trigger can trigger to pauses in the music (e.g. switch to a pause cue) and to the music restarting by defining three different trigger types.
To connect to software that does not bring OSC support but can be controlled by keyboard shortcuts, OSC Trigger also can simulate a keypress.
The most important functions can be found in the main window: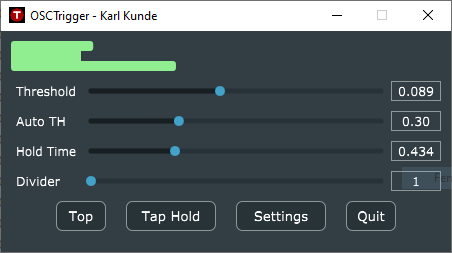 Threshold: Sensitivity of the beat recognition
Auto Threshold: Adapts the threshold automatically to the music material
Hold Time: Time after a recognized beat, after which no further one gets recognized. This time also can be set via "Tap Hold" button.
Divider: With this setting, only every x-th recognized trigger will be sent. Allows e.g. triggering on "one" and "three" of a 4/4 bar.
The configuration is made in the settings window and can be stored: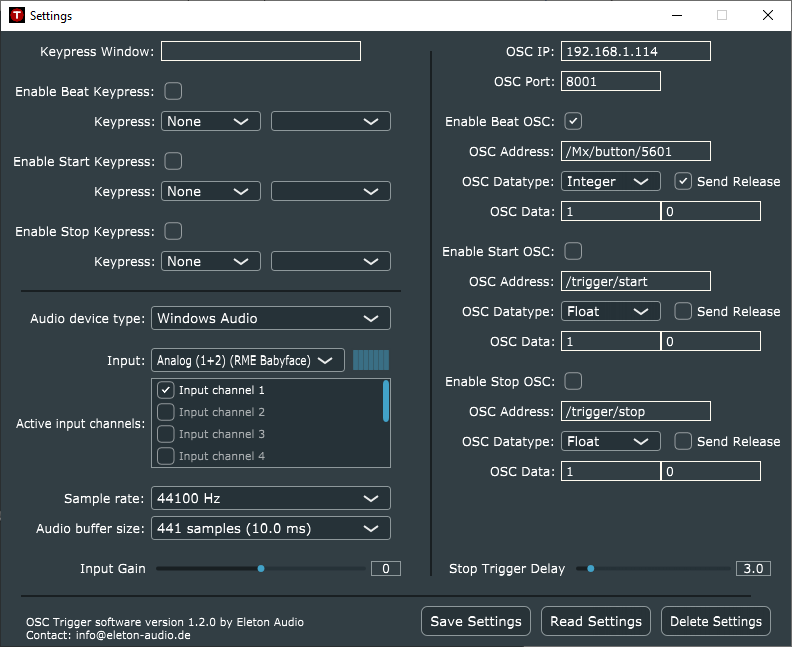 Beat, Start and Stop Trigger: Trigger to different events in the music
Keypress: Simulate a keypress as trigger
Keypress Window: Restrict keypresses to a specific application
OSC settings: IP address and port, structure of the OSC message
OSC "Release": To simulate a button press, a trigger may consist of two messages: Button press and button release.
Audio settings: Audio device and gain setting
Buy
You can obtain a full license for OSC Matrix via our reseller SharIT here.
If you are a individual person based in Germany, you may buy the license directly from us without the addition of taxes ("Kleinunternehmerregelung"). In this case, please contact us.
Download
Here you can download the application. Without a license, the software automatically terminates after 15 minutes and has to be restarted, but you may also get a 30 day demo version. For this purpose and for an offer, please contact info@eleton-audio.de.